Announcements
News Alerts:
APA's Apology to Black, Indigenous and People of Color for Its Support of Structural Racism in Psychiatry issued in press release today. Learn more...
---
COBB Institute hosts successful COVID-19 Webinar in the Sarasota and Manatee Counties 
Read more from the Sarasota Herald-Tribune

---
---
Upcoming Events:
The NIH Office of Research on Women's Health (ORWH) would like to invite you to attend the first event of our new virtual lecture series. The lecture series is titled "Diverse Voices: COVID-19, Intersectionality, and the Health of Women." The webinar on January 27, 2021, at 11 a.m. ET will feature Ana Langer, M.D., Director of the Women and Health Initiative (W&HI) at the Harvard T.H. Chan School of Public Health, and Jewel Gausman, Sc.D., M.H.S., Research Associate at the W&HI. They will discuss the necessity of studying the pandemic and associated policies through a sex-and-gender lens, particularly with consideration of underserved populations and communities experiencing disparities prior to the pandemic, where women are especially vulnerable. Drs. Langer and Gausman will also lead a plain-language discussion of topics explored in their commentary article "Sex and Gender Disparities in the COVID-19 Pandemic," recently published in the Journal of Women's Health. To attend, please register here.
---
Register for our event on Climate Change and Health Webinar, and join us in February 27, 2021 9am-3pm EST as we learn about these growing challenges, and provide you with the tools and career development opportunities to be a part of the solution and protect your patients. ow.ly/tpAo50COO7o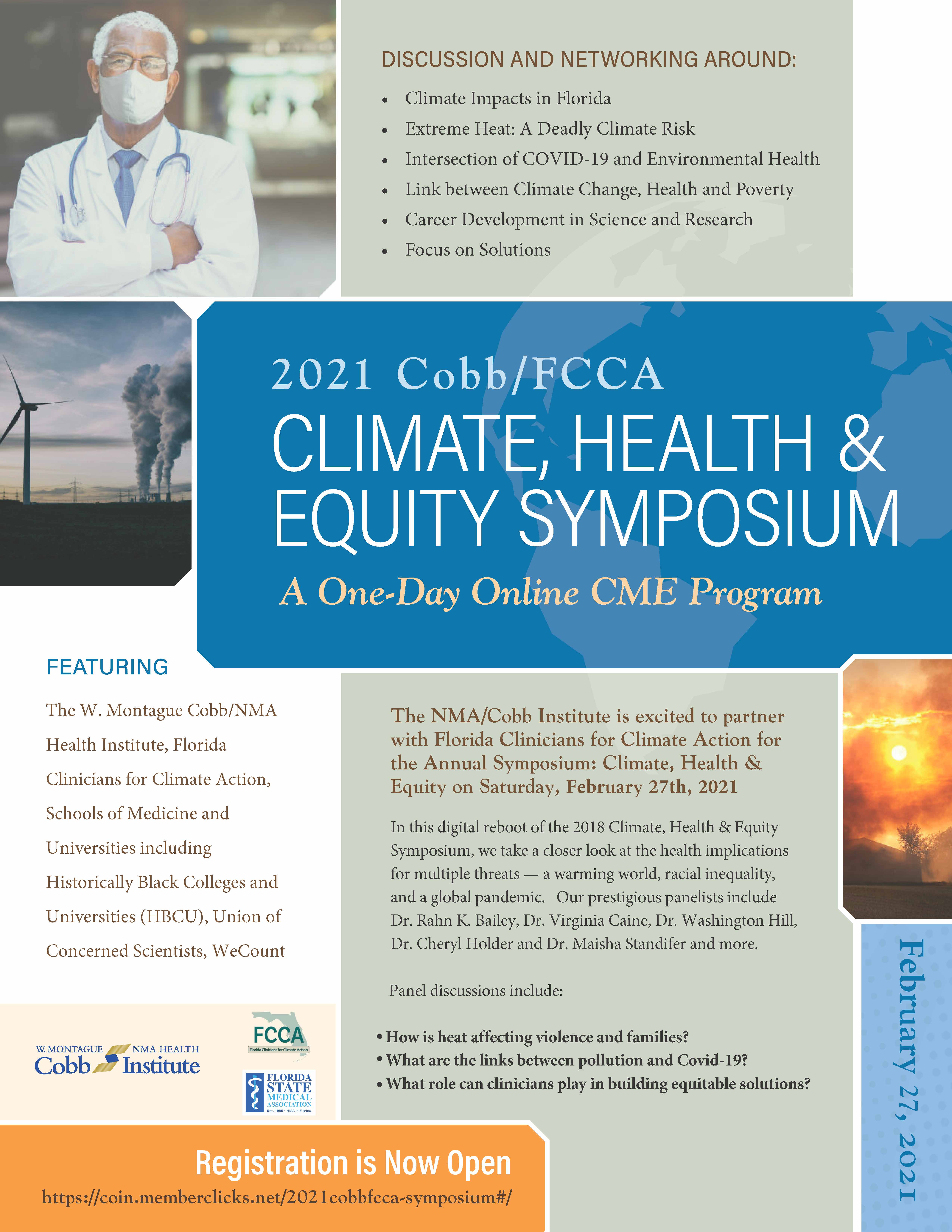 Past Events:
Vaccine Update 2021 for Our Community: A Focus Upon Sarasota and Manatee Counties
Sunday January 24, 2021
Speaker Bios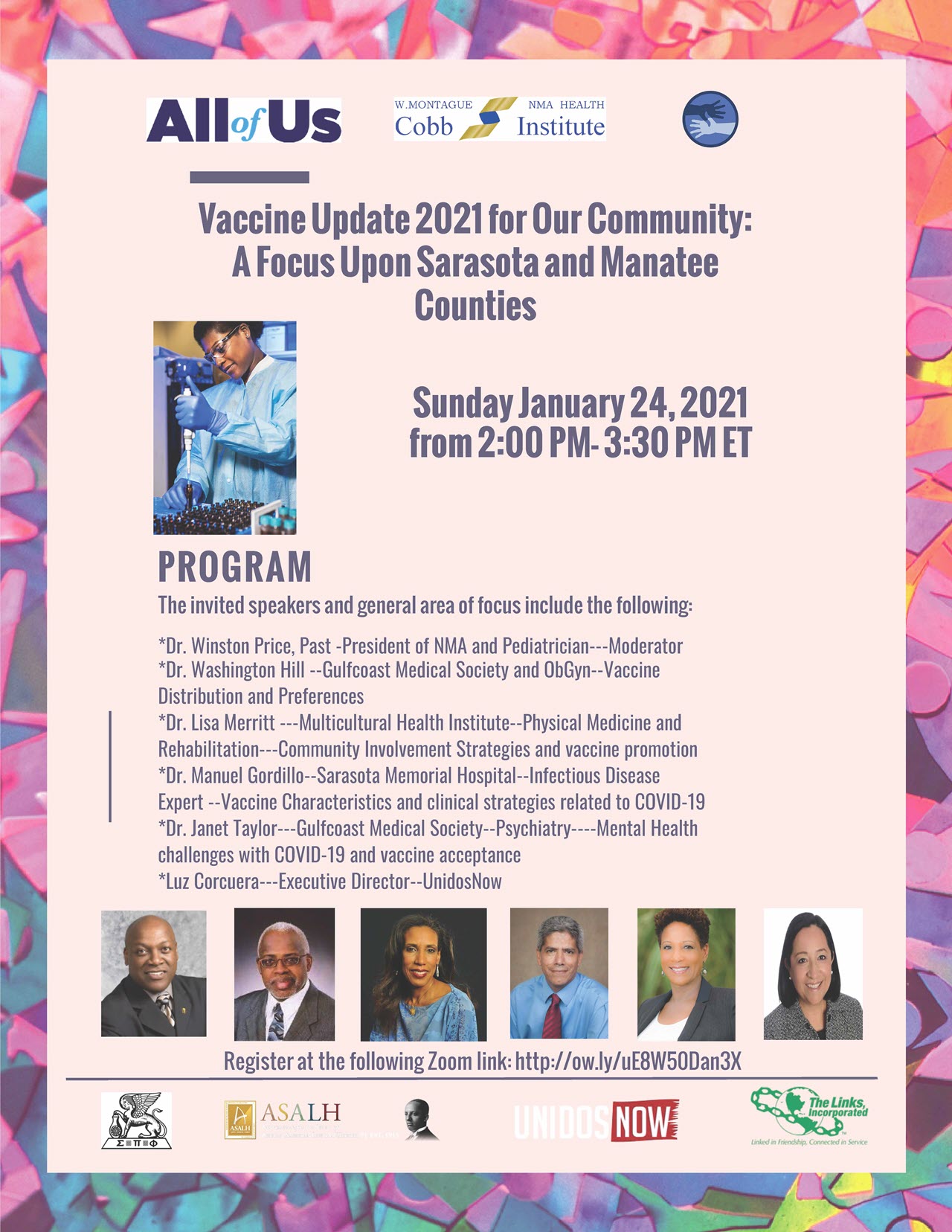 ---
Important session of the CoVPN educational program addressing the importance of the COVID-19 vaccine distribution. "MAKING IT PLAIN": Minority Health Professionals and COVID-19 Vaccine Distribution
Thursday, December 17TH – 7 P.M. – 8:30 P.M. ET FACEBOOK.COM/BLACKDOCTOR.ORG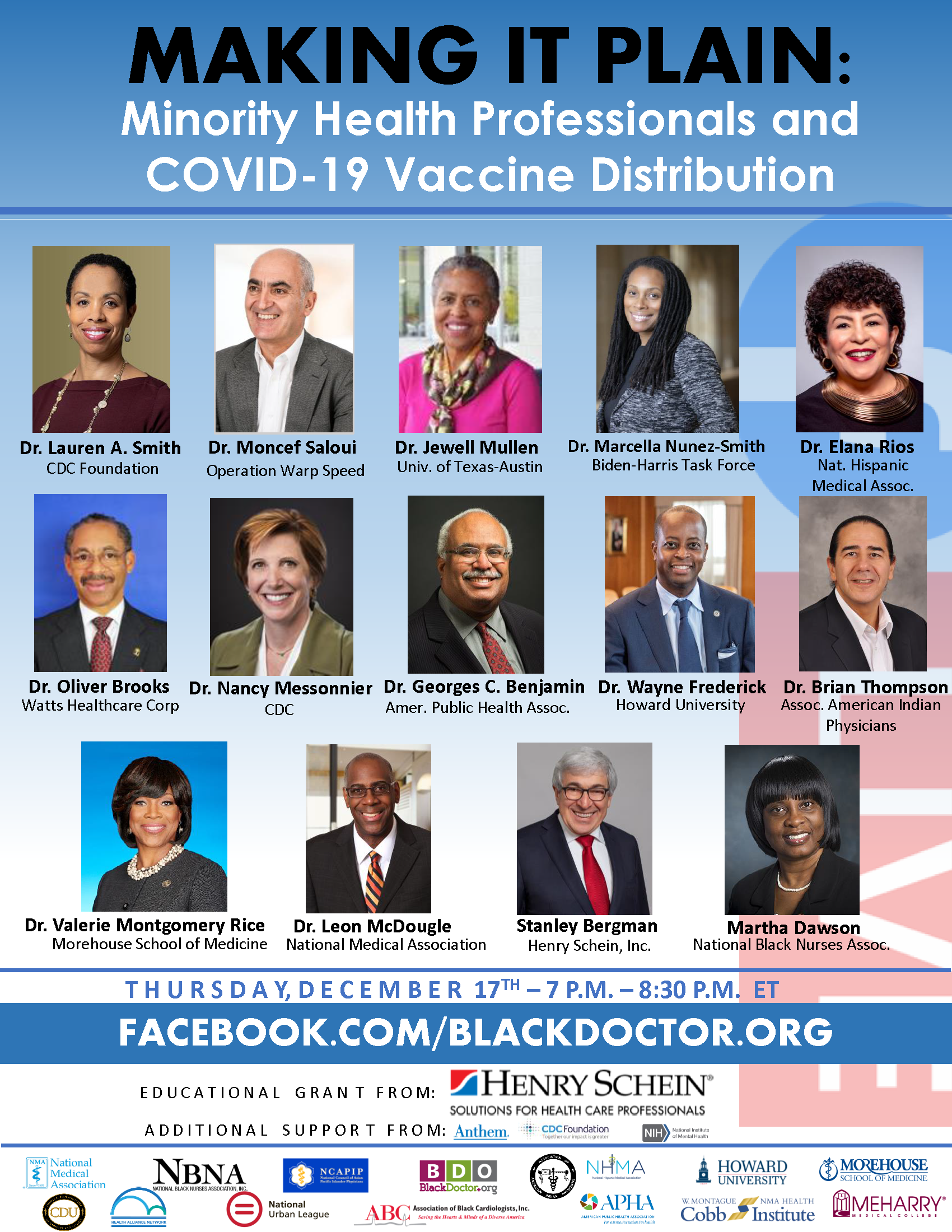 ---
Black Coalition Against COVID Town Hall, moderated by Ed Gordon, Thursday, December 10th, 6:00 p.m. - 7:40 p.m. EST. Making it Plain: A Townhall on Understanding the COVID-10 Vaccine. This Town Hall is designed to inform our community about the threat this pandemic poses, in addition to sharing the Who, What, Why, When and Where of COVID vaccines.
---
The Cobb Institute webinar The Unmet Mental Health Crisis with COVID-19 December 8th, 2020-8:00-9:30PM EST. On Demand link to follow.

Souls, Storms, and Science Series: Building Faith Leadership in the Age of COVID-19 – November 30th
BlackDoctor.org: https://www.facebook.com/BlackDoctor.org
Black Health Providers Can Help End the Uncertainty
Wednesday, November 18
4:00pm - 5:30pm PT / 7:00pm-8:30pm ET
Viewing options on Facebook:
Registration is now open for The Cobb Institute upcoming webinar Cancer, Covid and Clinical Trials on October 23rd, 2020-7:00PM EST. To register for this webinar CLICK HERE>>
---
Please join the The Cobb Institute at the AAMP 34th Annual Virtual Scientific Meeting on October 3rd, 2020- 8:00am-2pm EST. For additional details information and registration forms may also be obtained by clicking here >>
---
Fellowship Opportunity:
Academic Fellowship in Primary Care and Community-Engaged Research in the Epidemiology Division at the Medical College of Wisconsin. Positions are available for an intensive faculty development experience that will prepare you as an academic leader in epidemiology, to ensure access to high quality, innovative primary care research, reduce health disparities and promote community wellness. Please see www.mcw.edu/Family-Medicine/Primary-Care-Research.htm for information or to apply.
---
Webinar Event:
Please view our on-demand educational content of The Cobb Institute for the dynamic webinar titled "COVID19: An Uninvited Guest in Our Communities" --Action Strategies to Influence the Social Determinants of Health recorded on June 20th, 2020. Check back at this site for details and registration information for our upcoming webinars.
Preliminary Program
Panel
Rodney Hood MD
Cheryl Holder MD
Lisa Merritt MD
Dwight Tillery JD
--------------------------
Moderator
Winston Price MD
Host
Randall Morgan MD, MBA
The objectives:
Identify specific local demographic characteristics
Specific Priorities to address COVID19
Lessons learned to create a template for other communities